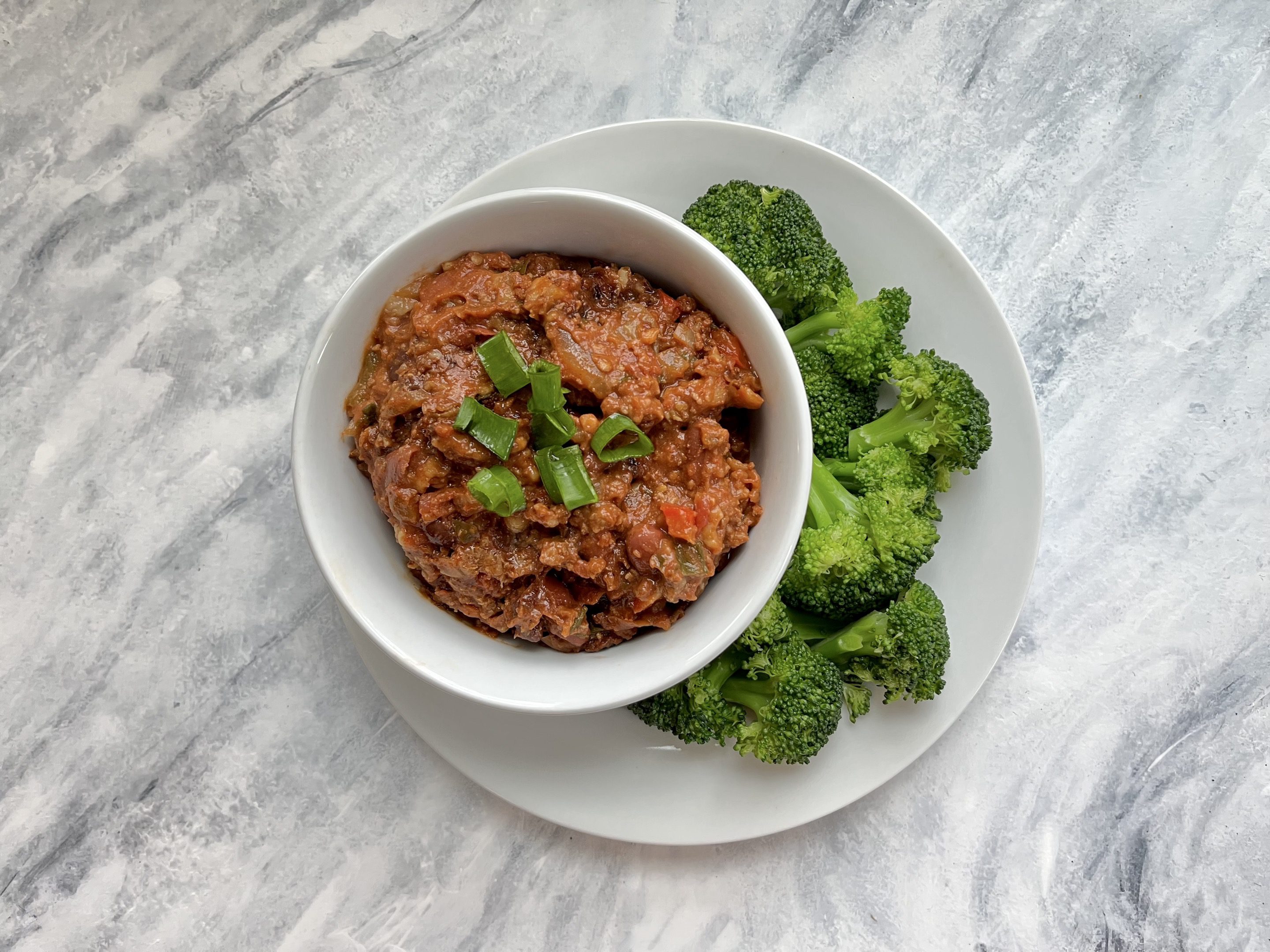 About
This is my favorite chili recipe for everyday weeknight meals. It makes a large batch that feeds two people all week and makes great lunches. This chili is the perfect balance of sweet and spicy.
The serrano peppers are the key ingredient in this recipe because they won't overpower the other ingredients. As with most peppers, they do vary in spiciness from time to time so you can choose how many serranos to use.
I also specify the Ghirardelli Chocolate because the fruity flavor works better than other chocolate. Use blackstrap molasses for the richest flavor- it's worth it!
Quality ingredients help make this low sodium version of turkey chili stand out. You won't miss the salt.
The additional cans of beans and rolled oats increase fiber for a cholesterol-lowering bonus and more protein.
Ingredients
2 tablespoons olive oil

2 lbs lean turkey

2 red onions

1 yellow onion

2 red peppers

3-5 serrano peppers

5-6 cloves garlic

1.5 to 2 tablespoons chili powder

1 tablespoon cumin

2, 28-ounce cans crushed tomatoes

2 cans of red kidney beans

1 can of black beans

½ cup rolled oats

2 tablespoons blackstrap molasses

4 squares Ghirardelli 72% dark chocolate

½ teaspoon salt, to taste 

½ bunch cilantro, chopped

1 bunch fresh spinach, stems removed

Sliced avocado (optional)
Directions
Heat oil in a large pot over medium heat. Add 2 lbs of ground turkey and stir until evenly browned.

Dice onions, red peppers and add to pot, stirring occasionally

Fine dice serrano peppers and garlic and add to pot.

Add chili powder, cumin, salt, stir to pot and stir to combine

Add 2 cans crushed tomatoes, 2 cans kidney beans, and 1 can black beans.

Add 2 tablespoons molasses, 4 squares of Ghirardeli 72% dark chocolate

Add ½ cup rolled oats to pot.

Chop about ½ bunch cilantro and add to pot

Bring to boil and then reduce heat to simmer, cover and simmer for 45 minutes to 1 hour

Wash spinach, remove stems, and add to pot about 1-2 minutes before serving.